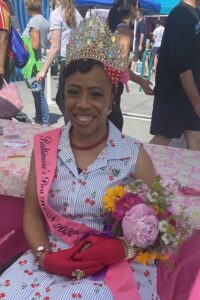 BALTIMORE'S BEST HON CONTEST – NO ENTRY FEE – WIN PRIZES – READ ALL ABOUT IT HERE
**THIS IS OUR MISSION: **To showcase working class women of the 1950's and 60's, the feisty ones, the ones who raised nice kids with good values, with faith in God, themselves, family and country. They held down a job, cleaned the house and always thought they looked gorgeous doin' it.
THIS IS OUR MOTTO: The higher the hair, the closer to Heaven…and we're serious, hon!
Only one special lady can be Baltimore's Best Hon and this is how ya do it:
Ya gotta have a BIG GIANT HON HEART and have yer own unique HON style. We know that true beauty is on the inside and the outside is just for makeup, jewelry, lotsa color and spandex.
You can be as young as 15 or just young at heart. By the way, ya don't hafta be from Baltimore, but ya better not say yer from Pittsburgh, hon.
We want you to be fascinating and fluent in our beloved Bawlmerese, 'cause we're gonna test ya!
Yer gonna be a star in the Mayor's Christmas Parade & join our Baltimore HonHive in local events.
Ms. Denise is the founder of Honfest and her mom, Mrs. Judy, was one of our judges. Judge Judy created our very high standards. Ten years of therapy and Ms. Denise is doing just fine now.
Psst: Our judges give extra points for a real "wash & set" updo because it's full of hope and hairspray.
Baltimore's Best Hon Contest: Register at the Main Stage on the day of the contest between 11:00 and 1:30. Be "contest ready" at the stage 15 minutes before contest time.
**IMPORTANT NOTE: The Baltimore's Best Hon Top Ten Finalists will return on Sunday at NOON **to prepare for their stage appearance. We will meet at the Five & Dime Ale House, 2nd Floor. You will be interviewed by the judges and learn a simple entrance dance before your stage appearance. Talent is not a requirement, but we know you have something special to share with the audience. Let us know what you plan to do and if you have props, arrange to have them close by before you are on stage. Your talent spot is limited to 1-2 minutes.
**LIL' MISS HONS (Ages 3-7) Register at the Main Stage from 11-12 and go on at 12:30. **You will be asked your name and say "Welcome to Baltimore Hons."
**HONETTES (Ages 8-14) Register at the Main Stage between 11 & 12:30 and go on stage at 1:00. Please be at the stage 15 minutes before stage time. **Honettes join our stage to debut their interest in our Hons In Training Program. Ms. Judy and Ms. Bonnie will ask them their names and what they want to do for their project. We are recruiting Honettes to join our Baltimore HonHive in monthly or bi-monthly get togethers to learn what we do to create and share HonLove in our city.
Parking
Parking lot located at 3910 Keswick Road – just $10 for the day!