TOP TEN THINGS YOU SHOULD KNOW ABOUT BEING BALTIMORE'S BEST HON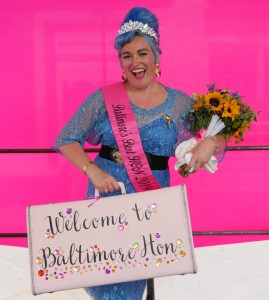 You fill out the application the Saturday of HonFest, next to the Main Stage, beginning at 10am.
If you become one of the top ten finalists you will need to return on Sunday to finish the competition.
Our Motto: "The higher the hair the closer to God!"
Our mission: "Honor the Working Women of America". We honor WOMEN.
Our goal: HonFest gives you permission to have fun, HON!
No cigarettes, no booze, no foul language, no exceptions.
Must have a unique HON style, command of our beloved language "Bawlmerese" and a great personality.
Must be available 3 or four times a year to dress up, and must ride in the annual Mayors Christmas Parade.
Talent is not a requirement, but we all have very special hidden talents so if you sing or read poetry or just want to tell a special story keep it to one minute and e-mail me your idea in advance so that we can be prepared. (Example: One year Heidi won because she played "take me out to the Ball game" on a xylophone made from Natty Boh bottles. This was considered in good taste and acceptable.)
My mother, Judy, is a judge for the contest. This makes her Judge Judy. She has very high standards… 10 years of therapy and I think I am ok now, HON!
Psst: Our Judges give extra points for "wash & set" hairdo, 'cause it's full of hope and hairspray.
CONTEST TIMES:  Saturday, June 13, 2020
11:15 am ~ LI'L HONS (ages 3-7)
Noon ~  Ms. HONETTES (ages 8-13)  
2 pm ~ BALTIMORE"S BEST HON CONTEST PART 1 ~ Ten finalists will be chosen
The Baltimore's Best Hon Top Ten Finalists will return,  Sunday, June 14, 2020 at 10:30 am to prepare for their stage appearance.